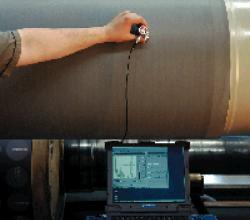 Our know-how for your application:
• Roll start-up support directly on the machine
• Calculation and validation of machine and product related roll surface and cover designs
• Dewatering calculation and analysis for cover designs
• Thermographic analysis and electronic nip measurement
• Technical services, including on-site support
• On-site trouble shooting, pinpointing the source of errors and error analysis. Development of solutions and recommended corrective measures – with a direct influence on product quality



APPLICATION ENGINEERING
From planning to construction, from implementation to start-ups, from maintenance to end-to-end integration within on-going processes. Our experts may be specialists, but their expertise is as broad as the entire field of application technology itself. Whether it is highly specialised technological solutions you are looking for, support in improving processing methods, maintenance or corrective measures: our application engineering experts have the knowledge you need and the answer to your requirements. Of course they know the characteristics and capabilities of our rolls like the back of their hands, but they also understand the processes needed for your production.
We improve the reliability of your facilities – by which we mean availability and operational performance. You save time and money.